In honour of Black History Month, we are dedicating our movement in celebration of Black cultural contributors, leaders, voices and change makers.
We will be highlighting three incredible Canadian artists from our local community who are using their work to highlight black culture and hear their story. To showcase each amazing Artist and their work, they will be creating an art piece centred around black culture and their stories. Each artist has been given one Wuxly jacket, a plain canvas to make into a wearable art piece. We will celebrate these artists throughout February by sharing their stories, their talents, their voices, their community initiatives, while showcasing their artistic process and their final artwork.
Stay tuned as we showcase each artist's process and their final art piece.
In the case that the art piece is sold, we will donate the full amount of the art piece towards a charity of each Artist's choosing.
I am inspired by the stories of those around me.
The art world has a deficiency in diversity. It is deficient in diversity of race, identity, ability, and gender. We need to see more of ourselves within the art lauded in galleries, institutions, magazines, and on social platforms.
We need to see "brothers on the wall" when we walk into galleries and public spaces, outside of black history month. We need to see more stories accepted by the art world that come from a variety of individuals as opposed to accepting the selected narrative per culture.
My art aims to tell these stories.
I paint the stories of my friends so they can see themselves in art. I paint the stories of my family so others can see their own lives reflected back at them. I paint the stories of communities and identities that have been marginalized by art institutions so they can know they are valid.
Since graduating from Sheridan College's animation program, Elliott has amassed a collection of murals and public artworks that have come to help define Toronto's cityscape. Moving beyond notions of the streets being his only canvas, Elliott has exhibited works at The Art Gallery of Ontario, The Royal Ontario Museum, and LE Gallery. Elliott has also acted as an arts educator working with the Art Gallery of Ontario's "Free After Three" youth arts program, and the Toronto Jazz Festival, teaching youth aerosol paint techniques.
Elliott's most notable works can be described as a highly improvised collage of soft characters and organic shapes, layered and blended through transparencies. His character work is often mediated by past experiences and relationships while also drawing on the likenesses of passers-by to complete his community-based murals. Elliott has also illustrated and produced a small run of books titled "Know Love".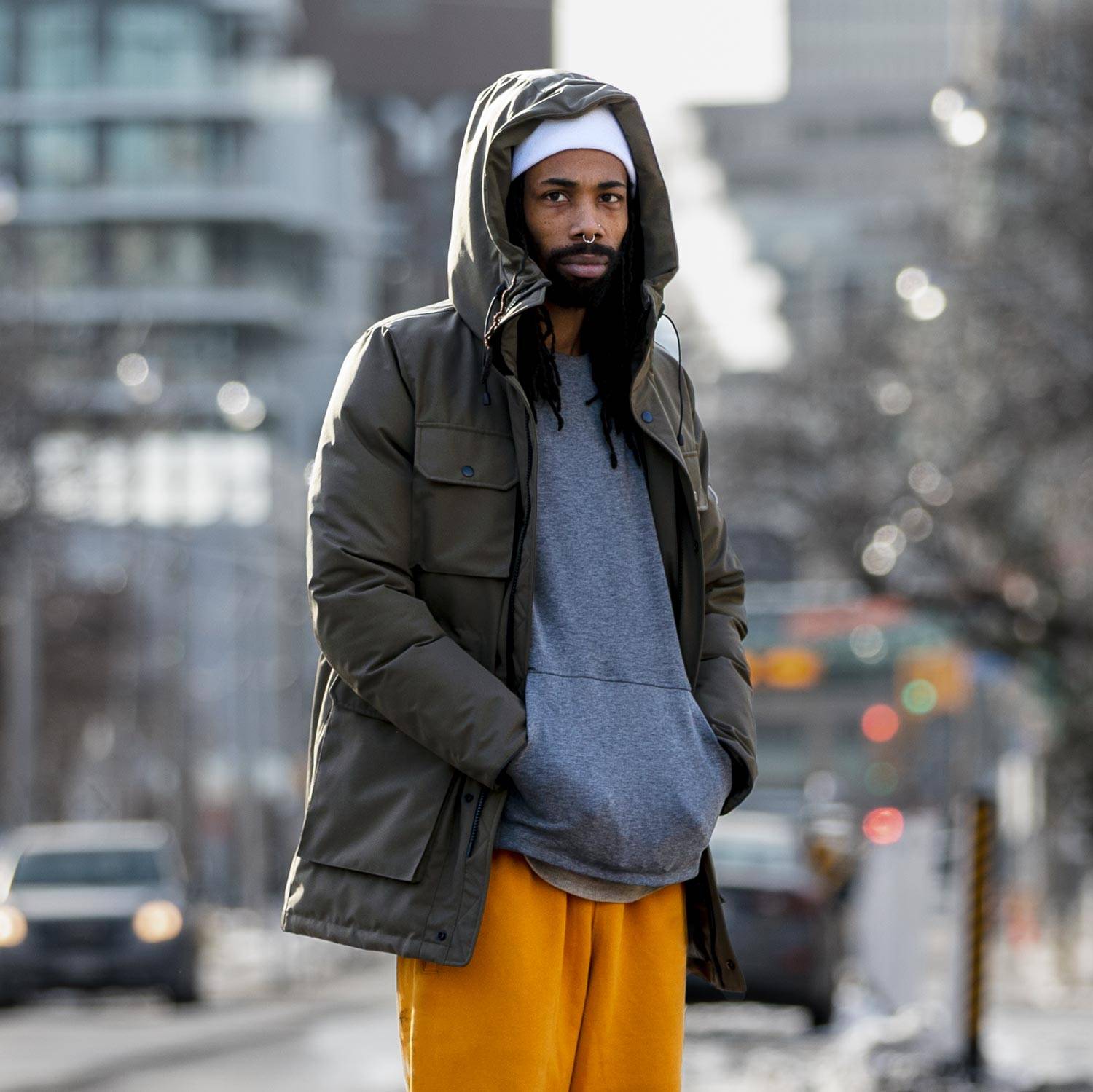 Hi world, my name is Tafari I'm a small guy with a tall personality, born and raised in Toronto. I started getting back to art a few years ago after playing basketball in school for a bit. The idea of the new canvas came into my head. Art projected on things other than the traditional frame on a wall.
I began playing around with different media and concepts, painting and using different forms of image transfer. My canvas' have been jackets, shoes, speakers, and hats amongst other things. For most of my creations, thought is put into creating a social conversation. Fusing and repurposing different types of pop media and culture from my life such as, tv shows posters and symbols into social commentary. The overall idea is let aesthetic create conversation. Great joy comes from creating and challenges the pieces bring. I'm always inspired by the outcomes to create more, always looking forward to the next project.
"The greatness of a man is not how much wealth he acquires, but in his integrity and his ability to affect those around him positively.
Elk V Parka - Natural Greige - Large
Doe V Parka - Natural Greige - Medium
Elk V Parka - Natural Greige - Medium